If you duck into West Monroe, Louisiana, to visit the warehouse and gift shop, where most of the action and antics on the show take place, you will see that the Duck Commander Warehouse is still an active part of the ongoing family business. There are great photo opportunities under the infamous Duck Commander/Buck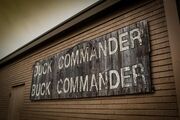 Commander sign, as well as the RV or 18-wheeler promoting the Robertsons. Duck calls are still being produced daily by the Robertsons and friends on site. You will definitely want to duck into the store and grab some great Duck Commander items to remember your trip.  You can also view the largest duck call created to commemorate the Duck Commander's 40th Anniversary. If you're lucky, you may spot one of the Robertson family members coming and going.  After getting your souvenirs, you'll find there's a lot more to do in the area. Check out some of these highlighted venues in the little city on the big Ouachita River. These are just some of the stops that have been featured in A&E's "Duck Dynasty" shows.
Ike Hamilton Expo Center
Edit
When Phillip McMillan puts out a Redneck Challenge to Willie "Dimples" Robertson, the lawnmower races are on!  Willie and his pit crew work to beat Phillip even if it is for second to last.  You see the Ike Hamilton Expo center featured as the racing location.  Here, you can take a picture in front of the statue of Mr. Ike, the namesake of the building, and Doc-o-lena, his famous horse.  You might luck out and catch a livestock show or event as this facility stays full of activity year round, even the occasional lawnmower race. 
Debbie's Snowballs
Edit
When the air-conditioning goes out at the Duck Commander Warehouse in the summer, the duck call room is too hot for anyone to do any work.  The guys think of all sorts of ways to cool down from creating a pool in the back of a truck to a redneck water park.  For a quick cool down, they head to Debbie's Snowballs.  When the heat rises all over town, this is a great place to cool down.  The Robertson's know the snowball is a definite stop in Louisiana heat.  Uncle Si says it can give you a "brain sneeze -  your brain wants to sneeze and it can't, so it just hurts!" Choose from a variety of flavors or try getting your snowball stuffed with Debbie's ice cream!
Chef Eric Johnson & Company
Edit
Miss Kay can cook, and we all wish we could eat at the Robertson table.  When she decides to test the waters of a restaurant business, this is where she did her trial run.  The family all gathered here to help her dream of owning her restaurant come true.  What Miss Kay found was not a dream, but a nightmare in the restaurant industry.  She decided she will continue to cook, but only for their family gatherings.  Miss Kay is not in the kitchen here, but you will enjoy Chef Eric's wonderful local tastes and Louisiana cuisine.  His gumbo is delicious, if you are lucky enough to catch it the day you stop in.  He studied under Louisiana Chef John Folse, and you can definitely taste the influence.  Stop in for lunch and try one of the daily specials. 
Corner Coffee House
Edit
When the warehouse coffee pot is busted, Jep knows where they can find their morning pick me up. The boys are looking for a regular cup of joe, but Jase orders the "strongest thing they've got." The barista serves up four double shots of espresso, and while Jase likes the coffee, he's not sure they fit in. But when the poetry readying begins, the boys hit the road.  Slide into the Corner Coffee House for a great cup of coffee and one of their cupcakes, scones, muffins, or cookies.  They also serve lunches with sandwiches, salads, and soups daily.  If you get the espresso like the guys, you'll perk up your day!
West Monroe Police Department
Edit
When Willie is offered a chance to "Protect and Serve," Si comes along for the ride. The boys join Officer Jim McGrew as honorary Policeman for the day. From Si calling "shotgun", claiming the front seat, to measuring the speed of their punches, Willie's ride-along is not quite what he had hoped. That is until they catch Jase's wife, Missy, speeding by. They pull her over and Willie has a bit of fun. The West Monroe Police Department is Louisiana's first nationally accredited police agency.  Be sure to drive safely and obey the speed limits or you could ride along in the back seat!
White's Ferry Road Church of Christ
Edit
In "Plan Bee," the guys build booths for the Harvest Festival at the church where they all attend.  The family has fun on the grounds at Harvest Festival.  See the church that the Robertson family has grown up in.  In fact, the oldest only non-bearded brother, Alan, was the preacher here until called to help the family with Duck Commander's successful business. Once a year, there is a Duck Commander Sunday, as seen in Redneck Road Trip, where all members thank God for the bountiful harvest of his provisions and they are encouraged to wear camouflage.  You don't see that every Sunday!
Masur Museum of Art
Edit
When Willie wants to diversify his portfolio, he visits the Masur Museum.  He looks to buy a piece of art and enjoys some wine that leads him on a new business adventure in "Sauvignon Beard".  Enjoy this local art museum and the changing exhibits.
Greg's Body Art Tattoos & Piercings
Edit
When Jase loses his wedding band again, Willie has fun with the situation.  Knowing Jase hates needles, Willie utilizes Jase's fears to talk him into getting a tattoo for a wedding band.  "Just think, you can't lose this one" he says.  If you want to join Willie's ways of saying forever, you can get your loved ones initial on your ring finger here too.  It's up to you!
Catfish Cabin
Edit
Competition between the Robertson brothers is as common as biscuits and gravy in the South.  When Willie and Jase challenge each other to "Catch and Sell" the most fish, the fun begins.  Jase is much more of the harvester and Willie is the salesman.   They end up using both their expertise to succeed by selling their field of fish to David Hearn in front of a hometown favorite catfish restaurant.  The Hearn family has served fried catfish for over 40 years.  In the show, they caught Buffalo fish, but you won't find that on the menu.  They serve fresh farm raised catfish to give you a great taste of Northeast Louisiana, as well as many other great seafood items.  Gather round the Hearn's table, and enjoy a meal with your family and friends.
Burney's Trend House Furniture
Edit
When Miss Kay goes furniture shopping for a new couch, she visits Burney's.  Willie is always in a hurry, but Miss Kay needs time to browse.  Willie is in a hostage situation and it gets even worse as she embarrasses him by trying out mattresses with Phil in the store.  Baby Boy Jep may have been the beneficiary of the couch selection, but you may find a new addition for your home.  Visit this great community business with a large furniture selection.
Blue Sky Yoga
Edit
When Willie needs to lose a few pounds for his high school reunion, Korie suggests he attend Yoga with her.  When he realizes his weight loss methods and chopping Jase's firewood aren't the answer, he tries yoga with Korie. Willie got more than he bargained for and discovered that yoga is not as easy as he thought. And Phil discovered that his boy was heading even further down the road to "Yuppieville". 
The Bridal Shop & King of Hearts
Edit
Sadie and her Mom, Korie, find her a dress for homecoming, but Willie doesn't want his daughter to grow up. So, Willie takes her to return the dress "without enough material" and find the perfect one, but has to deal with Uncle Si and his shenanigans while vetoing everyone Sadie tries on.  The Bridal Shop won't let you drink sweet tea or dance with the mannequins, but they have a great selection of formal dresses, wedding gowns, and tuxedos.  They even have the dress that Sadie selected to start with for her event.  Browse around to see if you find something just right for your next special occasion.  Just be thankful Willie is not shopping with you!
Art Nails and Spa
Edit
Korie and Missy are enjoying an afternoon of a pedicure and relaxation when they learn of the misconduct of their husbands.   A Robertson competition leads to some immaturity and shanking of responsibilities by Willie.  For a high stakes golf contest against Jase, Willie sends Phil and Si to career day at Willie's children's school.  Willie gets in deep trouble with Korie and deep in mud to prove he still is a redneck in "Frog in One".  He may need to send Korie back to the nail spa for a few more pedicures to get her to calm down.  If you need a little pampering, drop in and put your feet up. 
Grassi's Fine Jewelry
Edit
When Missy wants Jase to replace his wedding band, they head into Grassi's to select the "Ring Around the Redneck".  Jase doesn't think he needs a ring to let women know he's off the market, but he gives in and selects a gunmetal finish to fit his personal taste.  His ring leads to much entertainment for his co-workers and brother in the duck call room.  He may discover himself at the end of all the jokes about his manhood, with Willie chiming in.  Yet, Willie pays more as Korie finds her a pair of earrings while here.  You never know, something sparkly may catch your eye! 
Sonny Panzico's Garden Mart
Edit
This area garden mart is known for their huge selection of flowers.  In Drag Me to Glory, Phil and Si head here to return an old grill.  You won't find grills for sale, but you will find some gorgeous flora of the region. Pick up some greenery to add to your neck of the woods!
Bayou Bowl
Edit
When Sadie and John Luke plan to bowl with friends, Mamaw Kay invites herself to tag along. After electing herself John Luke's wingman to try and help him out with the young ladies, Mamaw Kay offers her dating do's and don'ts to her grandchildren and their friends. These kids got more than they bargained for on this bowling trip. Visit Bayou Bowl with 40 lanes, pool tables, and a grill.  It is a great place to spend some time with the family, but you can skip the dating advice if you want.
ULM Football Field-Malone Stadium
Edit
When Willie lets Jase be CEO for a day, he takes the time off to train for the annual Robertson football game.  Willie never does anything small, so when he trains Korie, he takes her to his alma mater's football stadium.  Home to the University of Louisiana Warhawk football, Malone Stadium is lit up for their training.  On Saturday nights in the fall, the Warhawks take the field, and you can catch the action. You never know, you may catch a Robertson in the stands watching their alma mater.
Danken Trail
Edit
When Clint Bowyer comes to town to meet with Willie, the guys join Willie and Clint for lunch at this regional Barbeque place.  For over 30 years, they have been serving up tangy sauce on pork, beef, and sausage.  You might want to try the sweeter spicy ribs that are finger licking good.  Or for a twist, this is the one Barbeque place that serves fried catfish, a favorite of the locals. Whichever you choose, you are sure to enjoy yourself, just like the Duck Commander guys!
Twin City Motorsports Park
Edit
Clint Bowyer drops by in "Drag Me to Glory", and the Robertson boys turn this friendly meeting into a competition.  Seeing camo limousines race is not the normal happening here, although there are many camo trucks in town belonging to the Robertson's, as well as locals. Willie can't beat this famous Nascar driver in the challenge, but they do have fun racing on the strip.  You can join in the weekend fun from March through November.  They even have mud racing on certain weekends.  You can get your redneck on with all that mud slingin'!
Share on facebook Share on twitter Share on pinterest_share Share on google_plusone_share ---- [1]
City of West Monroe Website
Edit
Government, resident and visitor information.
West Monroe on Wikipedia
Edit
History, geography and population data.
Community content is available under
CC-BY-SA
unless otherwise noted.